Ne samo što ovog pjevača ne ćete čuti na hrvatskim radio postajama, nego je on postao žrtva "cancel culture" (kultura otkazivanja) na zapadu od kud on dolazi. Jednostavno ga ignoriraju ili pišu loše recenzije o njemu (obični plaćenici), što je nevjerojatno za ovakvog velikana…
Nedavno sam išao na jedan poslovni put i dugo sam putovao automobilom. Prijatelj i kolega koji je išao sam mnom me pitao jesam li poslušao najnoviji (43. album) Van Morissona. Van Morrison je inače (sjeverno)irski pop rock R&B (ritam i blues) skladatelj, glazbenik te još uvijek sjajan pjevač. U biti on je glazbena legenda… od prve poznate velike i dan danas još poznate pjesme Brown Eyed Girl (1967. g) do klasika kao što su Crazy Love, Days Like This, Someone Like You, Moondance, Gloria, Irish Heartbeat, itd. itd.
Neko vrijeme ga nisam pratio, iskreno, mislio sam da je stariji i da nema previše što za ponuditi.
O, kako sam krivo razmišljao!
Počeo sam slušati. Koji fantastičan zvuk, rock, ritam i blues, a glas nevjerojatan kao da pjeva pjevač barem trideset godina mlađi. A Van (koji je inače rođen u Belfastu 1945. g.) sada ima 77. godina!
Ono što me je potpuno iznenadilo bili su stihovi pjesama. Potpuno politički nekorektne, krik slobode od iskusnog ne samo glazbenika, nego i starog skladatelja protestnih pjesama koji diže glas protiv establishmenta. Protiv ekipe u Davosu, političara, vlada, masovnih medija i cijele hajke oko korone pandemije i njezina utjecaja na obične ljude i njihove slobode.
Definitivno jedan od glazbenih bisera ne samo ove godine, nego vjerojatno i ovog desetljeća. Što više slušate album, kao staro vino i pjesme i zvuk postoju sve bolji. Čak i ako se ne slažete sa stihovima pridobit će vas glazba, divovski talent i pjevanje Morrisona i njegove glazbene ekipe.
Uzeli smo glavne stihove od značajnijih pjesmama s albuma (ima toliko toga, jedva smo uspjeli nekako skratiti).
Dali smo kratki uvod te uz originalni engleski tekst odmah i hrvatski prijevod.
Čitajte, ali najvažnije poslušajte album!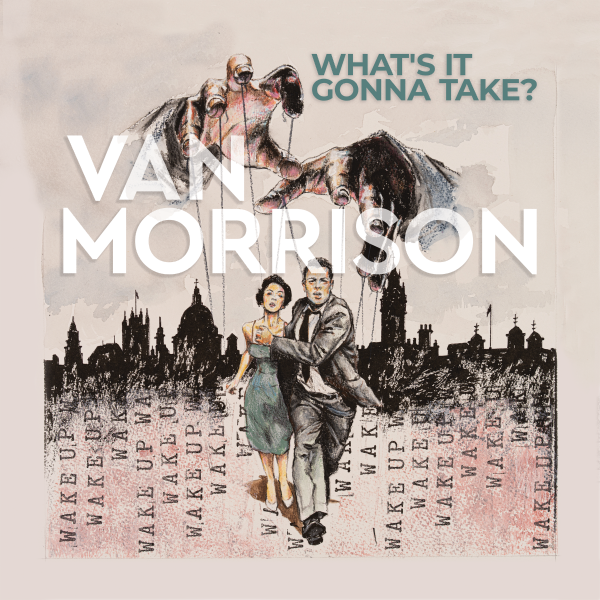 Pjesme su i ovdje na YouTubeu:
+++
Stihovi glavnih pjesama s albuma What's it Gonna Take (2022.) od Van Morrisona

Prva pjesma albuma se zove Dangerous/ Opasan. Establishmentu Van Morrison (i svi mi koji ga slušamo) smo… opasni:
Somebody said I was dangerous / Netko je rekao, pa ja sam opasan.
I said something bad, it had to be good / Jer sam rekao nešto loše, ali mora da je bilo dobro.
Well, I must be getting, getting close to the truth / Pa, mora da se približavam, približavam istini.
I'm not talking about wishful thinking / Ne govorim o pustim željama,
I'm talking 'bout calling 'em out, all their lies, lies / Nego govorim o prozivanju njih, svih njihovih laži, laži.
+++
Međutim, naslov albuma i jedna od najjačih pjesama je What's it Gonna Take/ Što će biti potrebno. Pjesma potiče na budnost (Vigilare – budnost) i ističe da je sloboda dar od Boga, a ne od ljudskih institucija.
What's it gonna take for you to wake up? / Što će biti potrebno da se probudiš?
What's it gonna take for you to break? / Što će trebati da pukneš?
There's no time to make your mind up / Nema vremena da se odlučiš,
Just to realize this is fake / Samo da shvatiš da je ovo lažno (fake).
What's it gonna take? / Što će biti potrebno?
Politicians don't represent the people / Političari ne predstavljaju narod,
Government doesn't represent us at all / niti nas vlada predstavlja.
Government takes and ruins all our business / Vlada nam uzima i uništava sve poslove,
Big tax about to take it all / a veliki porez će uzeti sve.
Lockdown is making us crazy / Lockdown nas izluđuje
Freedom is our God given right / jer sloboda je naše Bogom dano pravo.
Want to divide us, not unite us / Žele nas podijeliti, a ne ujediniti
Got slight in sight and on their right / dok smo u vidokrugu i s njihove desne strane.

Make your own way and pay your tax / Stvorite svoj put i platite porez,
But they won't take the foot off your neck / Ali oni Vam neće skinuti nogu s vrata.
+++
Ova pjesma Fighting Back is the New Normal / Otpor je novo normalno potiče građane da se bore za svoja prava i da stanu uz ljude koje se bore za slobodu. Francuze stavlja kao primjer onih koji su se borili protiv korona-restrikcija u svojoj zemlji
Fighting back is the new normal / Otpor je novo normalno,
Gotta take a tip from the French / Pogledaj samo Francuze.
Fighting back is essential / Otpor je nužan
Gotta stop sittin' on the fence / Jer moramo prestati biti neutralni.
Ain't gonna take it no more / Nećemo to više trpjeti
We just can't go on this way / Niti možemo ići tim putem.
Man, get up off the floor / Čovječe, vrijeme je da se ustanemo,
Step to the people who saved the day / da stanemo uz ljude koji su spasili dan.
+++
Zbog ove pjesme protivnici Vana Morrisona su rekli da je teoretičar konspiracija. No to je možda samo zato što žestoko kaže što misli. Pročitajte i poslušajte sami pjesmu s provokativnim naslovom Fodder For The Masses / (Stočna) Hrana za mase:
It will have you believe everything that's in the news / Natjerat će vas da povjerujete svemu što je u vijestima,
Opinions and views, and all the voices / O čemu se govori, stavovima, i svim glasovima.
They will surely use, abuse, and confuse / Oni će sigurno koristiti, zloupotrijebiti i zbuniti
Use you of everything under the sun / sve protiv vas što se nalazi pod suncem.
Try to stick to you like molasses / Pokušatiće se zalijepiti kao melasa za vas
Fodder for the masses / Kao (stočna) hrana za mase
Fill your head with fear, that worry and guilt / Ispunit će vam glavu strahom, brigom i krivnjom,
If you don't accept the drift 'cause you're a conspiracy theorist / a ako ne prihvaćaš zahtjeve onda si teoretičar zavjere.
So they'll take care of it / Pa će se oni pobrinuti za to
You really don't exist / da ti stvarno ne postojiš.
You know I'm playing it rogue / Znaš da se opasno igram
For those who seek control / s onima koji traže kontrolu.
Lie to you (Lie to you) / Oni te lažu (oni te lažu)
Continuously (Oh, woah, woah, woah) / Bez prestanka
Every day if they don't get their way (Ah, ah, ah, ah, ah) / Svaki dan dok nije po njihovome
Then you become such easy prey (Ah, ah, ah, ah, ah, ah, ah) / Postao si tako lagan plijen
They don't think you've got anything relevant to say / Tako lagan da misle da više ništa važno nemaš za reći

Fill you up with fake news for their masters / Napune vas lažnim vijestima za svoje gospodare
Yes ma'am, that's exactly what they're after / jer oni točno znaju što traže.
Don't even want you to share some common laughter / Natjerati vas da se podložite, natjerati vas da odustanete
Just want you to keep on following their rules like a fool / Ako ne slijedite sva pravila kao budala.
+++
Pjesma Can't Go On This Way/ Ne možemo ovako nastaviti izravno i oštro udara na agendu vezanu za pandemiju i sve negativne učinke na ljude. Udar i na one koji su, po Morrisonu, iza scene dirigirali i zarađivali kao Klaus Schwab (iz Svjetskog ekonomskog foruma u Davosu) i Bill Gates:
Can't go out dancing / Ne možemo ići plesati;
Can't find no joy / Ne možemo naći sreću,
We can't go on holidays / Ne možemo ići na praznike
Can't stay abroad / Ne možemo ostati u inozemstvu
Klaus is the wizard / Klaus je čarobnjak
Gates is playing God / Gates se igra Boga;
Can't go on this way / ne možemo ovako nastaviti;
It's just not on / jer to jednostavno nije opcija!
The government keeps lying / Vlada nas laže,
Everyone is just sad / dok je svatko tužan
Don't know what to do / ne znaju što da rade
About the common cold in the head / zbog obične prehlade u glavi,
There's a funny feeling that / Imam čudan osjećaj
Life is just drifting away / da nam život nekako odmiče
No one's bold enough to say no / nitko nije dovoljno hrabar da kaže ne
It can't go on this way, because… / jer jednostavno ne može ovako nastaviti…

Feeling life is drifting, just drifting away / Osjećaj da život odmiče, samo odmiče,
Can't even be, just king for a day / a da ne mogu biti niti kralj na jedan dan.
What's the point of going, going on this way? / Koja je svrha nastaviti ovako?
Everyone is just drifting and drifting from day to day / Svi samo lutamo iz dana u dan.
Some people think it's funny / Neki ljudi misle da je smiješno;
Some are just acting strange, yeah / dok se drugi samo ponašaju čudno, yeah.
Look at who's making the money / Pogledajte tko zarađuje
Behind this cage / iza ovog kaveza.
Government keeps on lying  / Vlada nas i dalje laže,
Everyone is just sad / dok su svi samo tužni.
But not sad enough / Ali ne dovoljno tužno
To start getting mad / da se počnu ljutiti.
+++
Mislite da Morrison ne će spomenuti "novo normalno"? Itekako hoće. Spominje i to kako se vlast, ali kako smo se i mi ponijeli i ponašali u ironičnoj pjesmi, Sometimes It's Just Blah Blah Blah/ Ponekad je to samo glupost (bla, bla, bla)
How do you like the new normal? / Kako ti se sviđa novo normalno?
Tell me, how is that goin' for you? / Reci mi, kako ti ide u svemu ovome?
How did you overcome the restrictions? / Kako si prevladao restrikcije?
How do you handle the news? / Kako podnosiš vijesti?
Do you still think the government's not lyin' to you? / Misliš li još uvijek da ti vlada ne laže?
Oh, has the penny dropped yet? / O, jeste li konačno skužili?
Seems there's no way out of this impasse / Čini se da nema izlaza iz ove slijepe ulice,
Is it somethin' we'll live to regret? / no je li to nešto što ćemo živjeti da požalimo?
Sometimes they push you too far / Ponekad vas tjeraju predaleko.
Sometimes they say it's gonna get better / Ponekad kažu da će biti bolje.
Sometimes you don't know where you are / Ponekad ne znate gdje ste.
Then the next thing they tell you it's about the weather / Onda sljedeće Vam počnu govoriti o vremenu/ klimi
Sometimes it's mind-controlled amnesia / Ponekad je to poput kontroliranja uma amnezijom.
Sometimes it's memories you treasure / Ponekad je to poput uspomena koju čuvate.
Sometimes it's sure that you can no longer share / Ponekad je sigurno da Vam nije dozvoljeno da dijelite više.
Sometimes they say you can't have any pleasure / Ponekad kažu da ne možete imati nikakvih zadovoljstava.
Sometimes they'll be rackin' on these restrictions / Ponekad će vas mučiti restrikcijama.
I'll be alive if they come to pass / Biti ću živ kada postanu prošlost.
Sometimes it's just so ridiculous / Ponekad je tako sve smiješno
Sometimes it's just blah, blah, blah, blah, blah / Ponekad je samo bla, bla, bla…
+++
U pjesmi Money From America/ Novac iz Amerike opet jasno udara po vladarima: političarima i Big Techu koji plivaju u novcu, a drugima dirigiraju kada i koliko mogu raditi i zaraditi:
Klaus Schwab, Prince Charles / Klaus Schwab, princ Charles,
Zuckerberg and Gates / Zuckerberg i Gates
Tell us that we have to wait / govore nam da moramo čekati.
Life is just a bowl of cherries / Budući da je život zdjela trešanja.
Must be some mistake / Mora da je neka grješka.
No more / Nema više
Economic forum / Ekonomskog foruma
No more / Nema više 
PM just to bore us / Premijer da nam dosađuje
No more / Nema više 
For them as well / niti za njih
'Cause they're staring at the / Jer oni bulje u 
The Gates from Hell / Vrata pakla 
The Gates from Hell / Vrata pakla
 +++
U pjesmi Not Seeking Approval/ Ne tražim odobrenje  Morrison govori o svom i našem pravu na slobodu govora:
Baby, taking a stance / Dušo, zauzmi stav
Some people think got no chance / neki ljude misle da nema šanse
You think it's about a virus, yes, it is / Misliš da je u vezi virusa; da, jest.
Well, it's me and you against us / Ipak, smo ti i ja protiv nas samih;
That's just my opinion / ali to je samo moje mišljenje.
Freedom of speech / Sloboda govora
Do you have any choice in this matter? / Imaš li izbor u ovoj stvar?
Do you have a voice? / Imaš li glas?
I knew you just wanna weep / Znao sam da samo želiš plakati
And go back to sleep / i vratiti se natrag spavati
+++
U ovoj pjesmi Damage and Recovery/ Povreda i oporavak govori se o posljedicama lockdowna, o lažima političara i medija, ali o nemogućnost rada i zarade:
How long can this go on this time? / Koliko dugo ovo može trajati ovaj put?
Guess they tried it on for size / Pretpostavljam da su isprobali,
Took our rights before our eyes / uzeli naša prava ispred naših očiju.
Fear-mongering media hypnotized / Mediji hipnotizirano i odgovorno raspiruju strah,
Accountants, please tell my why / računovođe molim Vas recite mi zašto?
In our so-called free society / U našem takozvanom slobodnom društvu
Is freedom just a memory? / je li sloboda samo sjećanje?
I'm watching you, you're watching me / Ja promatram tebe, a ti promatraš mene.
I'm not where I'm meant to be / Nisam tamo gdje bih trebao biti
Lockdown brought this misery / Lockdown je donio jad
Now it's damage and recovery / i sada imamo štetu i trebamo obnovu.
Snowflakes hiding in their houses / Stanovnici se skrivaju u svojim kućama,
Most of us need to get right back to work / a većina nas se treba odmah vratiti na posao.
Money doesn't grow on trees / Novac ne raste na stablima,
Jobs don't thrive on barren ground / niti poslovi rastu na neplodnom tlu.
Narrow-minded politics / Uskogrudna politika
So-called social scientist tricks / takozvani trikovi društvenih znanstvenika
Telling lies and deceive us too / nam prodaju laži, dok nas tjeraju
Watching morons on TV / gledati morone na TV
Watching me, you're watching you / Gledajuće mene, promatraš sebe. 
+++
U pjesmi I Ain't No Celebrity/ Ja nisam zvijezda pokazuje svoju neovisnost i autonomnost kao čovjek i pjevač. Govori i pjeva što hoće, a ne što netko misli da bi trebao:
I ain't no celebrity / Ja nisam zvijezda
Playing music is enough for me / jer bavljenje glazbom je dovoljno za mene.
I don't wanna please everybody / Ne želim zadovoljiti svakoga,
I just wanna please myself, don't you see? / nego želim zadovoljiti sebe, zar ne vidite?
Not tryna live up to anyone's expectations / Ne želim živjeti prema očekivanjima drugih
Tryna please, tryna please everyone / probajući zadovoljiti svakoga
Everybody else is already taken / Svatko drugi zauzet je već
You got to be yourself / Moraš biti svoj
Listen, baby, I don't care  / Dušo, mene nije briga
Whether you agree / slažeš li se (sa mnom).
+++
Ovaj osvrt na neke od pjesama s najnovijeg albuma Van Morrisona završit ćemo s pjesmom Absolutely Positively The Most/ Apsolutno najviše pozitivno u kojoj vraća sve na početak, na njegovu vjeru u Boga i vraćanje sve Njemu:
I'm a preacher, I'm a teacher / Ja sam propovijednik, ja sam učitelj
Master of my own soul / Gospodar vlastite duše
With my joy, with my freedom / u svojoj radosti i svojom slobodom
Where do I belong but God? / Gdje ja pripadam nego Bogu?
Pick your own salvation and your co-creation / Odaberite svoje vlastito spasenje i svoju sukreaciju
We're all part of the same whole / jer smo dio iste cjeline.
Got to come together, no separation / Moramo se skupiti, bez razdvojenosti.
Got to reach our goal because He's / Moramo postići naš cilj jer On je…
 Absolutely, positively the most / Apsolutno, najviše pozitivno.
 And law is the Lord (Law is the Lord) / I zakon je Gospodin (Zakon je Gospodin.)